Perhaps no one else in America has helped more Ross University grads figure out their student loans than I have. While the school provides a path to getting your MD or DVM, Ross University tuition costs are high. And, in my view, Ross University does little to warn students of the high loan burden they will face at graduation.
Ross University produces a lot of great physicians and veterinarians. This isn't me questioning the education so much as the cost.
As I'll show you later, it's not unusual to come out of Ross owing more than $400,000 for vet school and more than $500,000 for medical school. In many cases, you will be unable to pay that amount of debt back without federal forgiveness and repayment plans.
This post is my own opinion, but I'll back it up with some cold hard facts. Are you currently dealing with student loans from high Ross University tuition costs? If so, you can check out how I help professionals with high debt loads from medical and veterinary school here.
What is Ross University?
Forgive me if you already know, but Ross University is a for-profit institution located on two separate islands in the Caribbean. They offer DVM degrees through the Ross University School of Veterinary Medicine in St. Kitts and MD degrees through the Ross University School of Medicine, which used to be in Dominica and now is in Barbados.
Ross got bought in 2003 by DeVry, a giant for-profit college chain. DeVry rebranded itself as Adtalem Global Education, Inc in 2017. You can find them trading on the NYSE under the ticker ATGE.
Why is any of that relevant to you? It's because Ross University wants to make as much money as possible, and you're the profit center. That creates a ton of incentives to not be transparent.
Ross University tuition estimates
When you're first starting to research on a school, typically the school website is where most people look first for cost estimates. We'll see later why this can be a mistake. But, for now, let's look at the Ross University tuition estimates that are published on its site.
Ross University School of Medicine Tuition
It can be a bit difficult to calculate the total cost of attending at Ross University Medical School (RUSM). The reason for this boils down to how the school structures its MD program.
If you're already a Ross University student, then you know that the first two years of the program focus on the "Medical Sciences" curriculum, and the last two years are when students complete their clinical rotations.

Why does this makes things confusing? Because Ross charges a different tuition rate for it's Medical Sciences and Clinical Clerkship semesters. Here's a screenshot from the financial aid section of their site of the latest Ross University tuition rates, effective September 2020.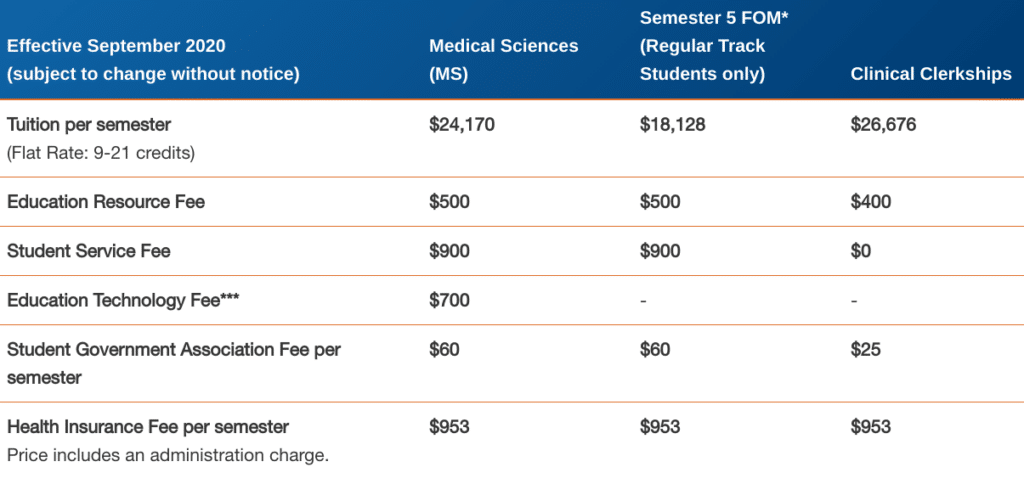 The other important point to keep in mind is that Ross University follows a three-semester-per-year schedule (with start dates in September, January, and May). So to get a per-year total cost of attendance, you need to multiply the above totals by three.
When you add up all the numbers in the far-left (MS) column, you get a total per-semester cost of $27,283. Multiply that number by three and you get a per-year MS cost of $81,849. Multiply by two and you get a two-year cost of $163,698. The Clinical Clerkship per-semester cost is a bit higher but you won't have to pay a Student Service Fee or Education Technology Fee. Still, the two year-cost comes out to $168,324.
If you simply add these two figures together, you'd assume that you would find a fair estimate of the cost at $332,022. But our average Ross med school client owes far more than that.
Ross University School of Veterinary Medicine tuition
And how much does it cost to earn your Doctor of Veterinary Medicine at Ross? Ross School of Veterinary Medicine tuition is stated to be $13,859 per semester which would lead to an annual cost of $41,577.

Unfortunately, cost of attendance estimates calculated strictly from website information are usually wrong (this is for most institutions). You must adjust for accrued interest and increases in the cost of attendance. Plus, the numbers above don't include living expenses.
My rule of thumb is to take any program's cost estimates and multiply by 1.25. You'll get a more accurate guess of the average net price of Ross by accounting for hidden costs.
Stats about Ross University School of Veterinary Medicine
In the RUSVM factsheet, it says that the median vet school tuition and fees for students who started the program in the 2014-2015 academic year was $308,430. It also says that it's official 2018–19 NAVLE pass rate was 88%.
You'll notice that these stats haven't been updated to include the 2020 graduating class. Also, there's no mention of the percent of Ross vet students graduating in the 42-month program time frame. I would love to see data about the number of withdrawals per first-year students.
Stats about Ross University School of Medicine
The Ross University School of Medicine factsheet is very similar to the DVM program's factsheet. The RUSM tuition rates and debt data it provides are for students who graduated in the 2018-2019 school year. It say that the median tuition, books and fees paid by graduates was $253,504 and the median student debt was $375,266.
The actual cost of Ross University that I've encountered
There are a lot of ways to massage statistics so that they paint a rosy picture. For example, the RUSM fact sheet touted the school's 1.3% default rate compared to the national average at all foreign Title IV eligible schools.
To that I say, OF COURSE! If you're smart enough to survive and graduate Ross Medical School or Vet School, you're going to learn about Public Service Loan Forgiveness, Income-Driven Repayment, and forgiveness options, and cutting costs on interest through refinancing.
This is one example of highly misleading admissions materials that I found while researching this post. If the school wanted to be fair, they would compare default rates only among other medical schools and veterinary schools, and they would look at the percent of students actually paying down at least $1 of the principal within 3 years.
Here are the actual student loan balances I've seen from Ross University graduates who booked a plan with me.
| | |
| --- | --- |
| | |
| Veterinary Medicine (DVM) | |
| | |
*These numbers represent Student Loan Planner® clients only
One explanation for these numbers is that some professionals contact us a few years after graduation. You might not have thought about your loans the first day after graduation of course. That's when Ross reports their data to the Department of Education.
Ironically, ever since the school has been able to tap federal student aid, costs have continued to soar while students feel less of the actual expense. That's because Ross students used to rely heavily on private loans. Federal student loans now offered to students have more generous repayment options.
Ross University must pay for placements
Since Ross isn't affiliated with any teaching hospitals, the school must pay for clinical rotations in the US. Many Caribbean medical school programs like St. George's have this same issue.
Not long ago, Ross paid $35 million for rotation slots in Kern County, California, for its med students. I expect the vet school makes big payments to its affiliate hospitals for its students' clinical year in the US. And the students are the ones who ultimately foot the bill for these paid placements in the form of higher Ross University tuition
Dealing with Ross University student loans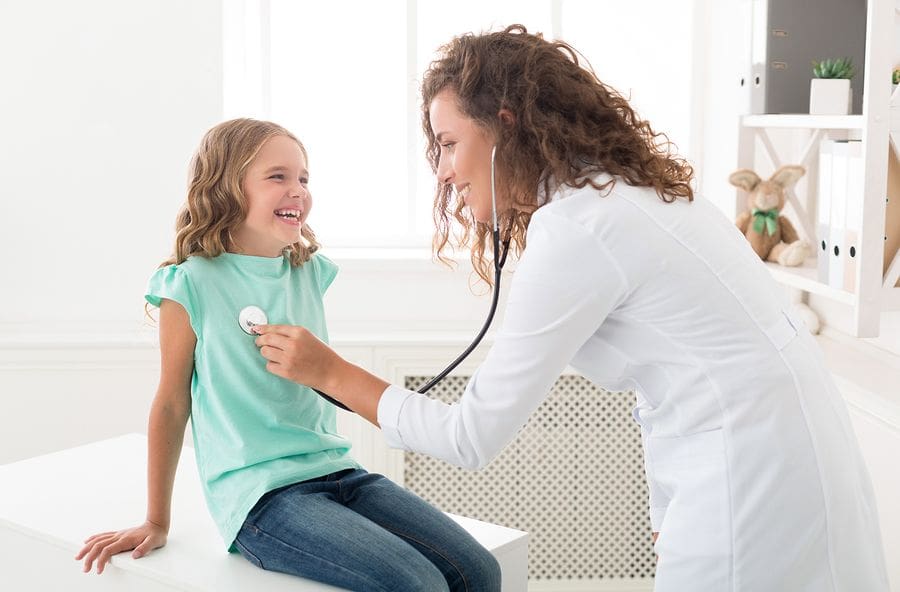 As an example, pretend Maggie graduates Ross med school with $425,000 of student debt and Tim leaves with $350,000 from vet school, all at 7% interest. Both ignore their loans for the first couple of years after graduation.
Forbearance, capitalization and interest growth happen. Now Maggie owes $484,500 and Tim owes $399,000.
Maggie the Ross pediatrician
Maggie works as a pediatrician in a big hospital system in Atlanta. Tim works at a VCA clinic in St. Louis.
Maggie is eligible for Public Service Loan Forgiveness. She has one year left of residency at a $60,000 salary. She then earns an attending income of $160,000, adjusted upwards for inflation. Here's PSLF vs private refinancing at 5%.
Clearly, PSLF has massive savings over refinancing. However, there are so many ways Maggie could save money, it's not even funny. She could've started making payments earlier, consolidated her loans strategically, or focused on retirement savings.
We didn't even model the impact of getting married. Let's look at Tim the veterinarian now.
Tim the Ross veterinarian 
Since Tim works at VCA, a private employer. He must pay over 20 years under the Pay As You Earn (PAYE) plan. He must also pay taxes on the forgiven balance. This is a big difference to what Maggie experiences since she works at a not-for-profit employer.
Take a look at the 20-year cost below, assuming Tim earns $75,000 per year and remains single.
Tim is obviously better off paying a total of $475,227 over 20 years instead of $519,013.
Get custom help understanding Ross University student debt
I don't believe you can trust a for-profit school to act in your best interest.
Financial aid, admissions, and administration answer to the owners of the school and Wall Street. They're probably good people. But their incentives are not aligned to make sure you get the best advice on your financial future.
If the school brings in a group to give a presentation, that group can't risk offending the school since they're the ones paying the bills.
That's why we work directly for borrowers like you to avoid this conflict of interest. I'm assuming Ross won't be inviting me to speak anytime soon. I prefer to talk one-on-one and create custom plans instead of giving generic tips about how to pay back med or vet school loans.
If you're trying to figure out how to pay hundreds of thousands of student debt from Ross University, my team and I would love to make a plan for you. And we can hopefully save you a lot of money projected over the life of your loan repayment.
These are scenarios we try to answer for you with our student loan planning service, and we've advised over a billion since we started. If pursuing a forgiveness program is your best options, we'll let you know that. And if refinancing is best, we can help you compare lenders.
The good news is I've never met someone who was beyond help, no matter how high your student loan balance ended up being.
What's your opinion of Ross University and the cost of attendance? Share your opinion below! Get a one on one student loan consult
Refinance student loans, get a bonus in 2021
1 Disclosures
$1,050 BONUS1

For 100k+. $300 bonus for 50k to 99k.1
VISIT LAUREL ROAD
Variable 1.64-5.65%1
Fixed 2.25-5.75%1
2 Disclosures
$1,050 BONUS2

For 100k+. $300 bonus for 50k to 99k.2
VISIT COMMONBOND
Variable 2.49-6.84%%2
Fixed 2.59-6.74%2
3 Disclosures
$1,000 BONUS3

 For 100k or more. $200 for 50k to $99,9993
VISIT EARNEST
Variable 1.88-5.64%3
Fixed 2.44-5.79%3
4 Disclosures
$1,000 BONUS4

For 100k+. $300 bonus for 50k to 99k.4
VISIT SPLASH
Variable 1.88-6.15%4
Fixed 2.44-6.62%4
$1,275 BONUS5

 For 150k+. Tiered 300 to 575 bonus for 50k to 149k.5
VISIT ELFI
Variable 2.39-6.01%5
Fixed 2.47-5.99%5
$1,000 BONUS6

For $100k or more. $200 for $50k to $99,9996
VISIT SOFI
Variable 2.25-6.59%6
Fixed 2.49-6.94%6
7 Disclosures
$1,250 BONUS7

 $350 for 50k to 100k7
VISIT CREDIBLE
Variable 1.80-8.90%7
Fixed 2.15-9.15%7
Not sure what to do with your student loans?
Take our 11 question quiz to get a personalized recommendation of whether you should pursue PSLF, IDR forgiveness, or refinancing (including the one lender we think could give you the best rate).
Content retrieved from: https://www.studentloanplanner.com/ross-university/.